Welcome to the highest level of orthodontic care and service. 
A common question asked by patients is, "Will my treatment hurt?". We've got good news! Our team is committed to your comfort and a positive treatment experience. We offer our patients the Dental Pain Eraser:  a clinically proven, electronic dental anesthesia device that erases discomfort before, during, and after procedures. Our patients love the amazing experience of transforming smiles in our practice.
How Synapse Dental Pain Eraser Works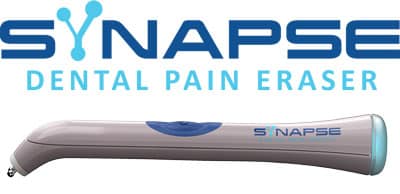 If you are considering orthodontic treatment and nervous about possible discomfort, we've got you covered in our practice! The award-winning, FDA-cleared Synapse Dental Pain Eraser "pen" delivers gentle, electric pulses that prevent and remove discomfort without needles, numbing gels or drugs, with relief lasting up to 48 hours. This long-lasting relief allows for your comfort with the following:
New braces, aligners, and bite correction appliances
Adjustments
Wire and rubber band changes
Bite sensitivity
Aphthous ulcers (canker sores)
Bracket removal
Other dental applications such as whitening, extractions, and TMJ/TMD relief
Our Care for Excellence Extends Beyond Our Practice
We know that oral pain can show up anywhere, at any time. To continue a positive treatment experience after you've left our practice, we also prescribe the Dental Pain Eraser cutting-edge technology 
for at-home use by patients
. Just apply the device to your tooth or gum, and in less than two minutes – you'll prevent or relieve discomfort. You can now be pain-free before, during, AND after your appointment.